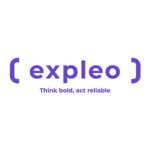 Despre companie
Expleo is a global engineering, technology, and consulting service provider that partners with leading organizations to guide them through their business transformation, helping them achieve operational excellence and future-proof their businesses.
Expleo benefits from more than 40 years of experience developing complex products, optimizing manufacturing processes, and ensuring the quality of information systems. Leveraging its deep sector knowledge and wide-ranging expertise in fields including AI engineering, digitalization, hyper-automation, cybersecurity and data science, the group's mission is to fast-track innovation through each step of the value chain.

For more than 20 years, we've assisted clients in major industrial projects in Romania. Our Expleo employees are based in Bucharest and Iasi, work either directly with clients or as a nearshore resource for global clients partnering with our Western European offices.

We are looking for bold minds to reinforce our teams. The time you spend at Expleo will turbo-charge your career, allowing you to work on complex projects, enjoy opportunities to expand your skills and take part in multi-disciplinary collaborations. Whether working on energies of the future, autonomous vehicles, green planes, the factories of tomorrow or cutting-edge banking technology, you will have the opportunity to become a bolder version of yourself.
You'll enjoy the opportunity to work on transformation projects for leading global brands. Our people often collaborate in small, autonomous teams or within our clients' teams. Your contribution will be recognized, within a fast-growing organizational structure.

For more information, visit expleo.com